Community Based Services
Brief overview of Community Department.
The Department has 29 staff with the following sections: Community Development, Labour, Probation and social welfare, Gender and women Councils, Youth and Children affairs and Elderly and PWD Council.
 The Department has programs supported by both Government and civil society organizations; Functional Adult Literacy (FAL), Gender Based Violation Prevention (GBV), Orphans and other Vulnerable Children (OVC), Special Grant for people with Disabilities, Youth Livelihood Programme (YLP), Uganda Women Empowerment Programme (UWEP), Parish Community Association (PCA) and Social Assistance Grant for Elderly (SAGE).
Staffing
Leo Mmerwoma DCDO

ERinah Namukasa

 

PCDO

Namukose Susan SDCO

Nabirye Zowena SCDO

Mboizi Joshua SPSWO

David Magada SLO

Namukose Helen LO

Ababiri Ronald CDO

Helen SAA

Kalembe Maureen Secretary

Bwali Lonvisa OT
STATUS OF OLDER PERSONS SECTION IN KAMULI DISTRICT
Executive summary.
In Uganda, older persons contribute immensely to the creation of wealth, support and care of orphans and other vulnerable children, creation of social cohesion and conflict resolution in their communities. An older person is associated not just by age but with certain qualities and traits that are observed in a person in the later stages of life. In Kamuli district under this section various activities are carried out and there include; holding of the district older persons council and executive meetings, Monitoring of older persons activities, lobbing for relief for the most vulnerable older persons and the Social Assistance Grants for Empowerment is extended to the rightful beneficiaries. 
Social Assistance Grants for Empowerment (SAGE)
Today social protection is recognized all-over the world as a critical element of national development strategies. It is recognized as key to reaching vulnerable, often excluded sections of the population, thereby achieving inclusive propoor equitable development. The government of Uganda under the Ministry of Gender, Labour and Social Development with support from development partners (DFID and Irish Aid) is implementing the Social Assistance Grant for Empowerment (SAGE) in all the districts of Uganda. On the 8th March 2020, a nationwide rollout was launched by His Excellence President Yoweri Kaguta Museveni during the International Women's Day celebrations in Mbale. SAGE is a unit under the Programme Management Unit (PMU) that oversee all these activities. SAGE programme started in 2010 with a pilot covering 15 districts and extended to 20 districts in 2015 including Kamuli district targeting 100 older persons per Sub County then but the number of beneficiaries has gradually increased. In Kamuli the programme was launched on 23rd 05 2016. An MOU was signed between Ministry Of Gender Labour and Social Development and Kamuli District Local Government. The programme has been implemented by different actors in Kamuli district that is, the Regional Technical Support Unit, District Local Government and Post Bank Uganda staff.
A table below shows how Senior citizens in Kamuli have benefited from this programme from July 2015 to July 2020
| | | | | | | | |
| --- | --- | --- | --- | --- | --- | --- | --- |
| Year | Female | Male | Grand total | Sum of entitlement amount | Sum of withdraw charges | Sum of service charges | Grand total |
| 2015-2016 | 443 | 439 | 882 | 88,200,000 | 2,293,200 | 1,411,200 | 91,904,400 |
| 2016-2017 | 649 | 616 | 1,265 | 312,225,000 | 8,117,850 | 4,995,600 | 325,338450 |
| 2017-2018 | 641 | 606 | 1,247 | 429,450,000 | 11,165,700 | 7,460,700 | 448,076,400 |
| 2018-2019 | 1408 | 1281 | 2689 | 436,950,000 | 11,360,700 | 6,991,200 | 455,301,900 |
| 2019-2020 | 1,387 | 1,251 | 2,638 | 65,950,000 | 3,429,400 | 2,110,400 | 71,489,800 |
| Grand Total | 4,528 | 4,193 | 8,721 | 1,332,775,000 | 36,366,850 | 22,969,100 | 1,392,110,950 |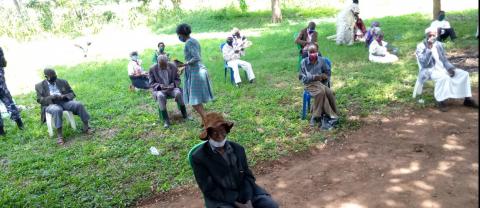 With the outbreak of COVID19 in UgandaBeneficiaries observing social distancing and wearing masks as an SOP by the Ministry of Health against COVID19. Standing is the SCDO, Mrs Erinah Namukasa collecting beneficiary's national ID and yellow card during payment at Kasambira Parish pay point.
Beneficiaries observing social distancing as they waited for payments at Kisozi Sub County on 4th June 2020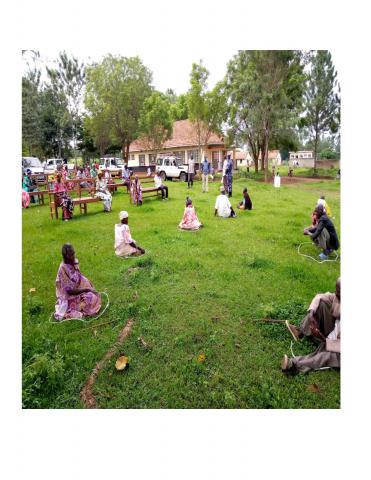 These two older persons are brother and a sister the one in the middle is a daughter to the lady on the right hand, both the gentleman and the sister at the extreme right hand are blind and they stay together in Busota parish, they are both SAGE beneficiaries and do appreciate the SAGE program since they started getting this money their love for each other was blossomed, they have been able to fulfill their needs, improved upon their hygiene and sanitation, care and respect each other more since wherever they come for payment such information is shared to them by the authorities at the pay point during the pre-payment address. The reason this photo is brought out is to show that there is social inclusion in the SAGE program.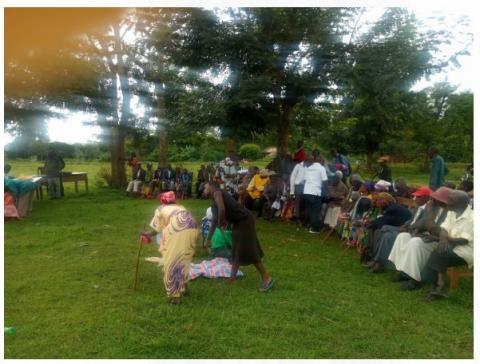 Over 8,721Older persons in Kamuli District have been in position to receive funding from Central Government through SAGE program, the picture above was taken during SAGE beneficiary payment at Wankole Sub county. The beneficiary lifestyle has been improved upon and they are now more happy and healthy compared to the way they were before. Some of those beneficiaries have been in position to use the money to buy livestock like goats, and chicken, some have roofed their small houses, met their medical bills and all this has at least enhanced their well-being.
Kamuli District Local Government through Community Based Service Department has been in position to hold both the District Older Persons Executive and Council meetings on a quarterly basis with funding from Central Government and these are some of the members. They have deliberated upon older persons issues and a lot has been achieved for example, the advocacy upon the amendment of the Older Persons Policy that was adopted by the National council for older persons, the advocacy for representation in the parliament, advocacy on timely payment of pensioners, advocacy for an affirmative action where older person are given the first priority at banks and health units such that they don't wait for long, mobilization of older persons to participate in the electoral process, encouragement of older persons to register with NIRA, they opened up the Kamuli District Older persons SACCO to boost their saving culture,  and also have attended the annual National Celebrations of older persons.
Kamuli District Local Government in partnership with FIDA Ugandan has managed to give legal services, guidance and counseling to older persons and it is evidenced in the picture above where the legal officer for FIDA is giving legal advice to older persons at Kitayunjwa Sub county headquarters majorly on matters of Land related issues, making a will, family and child care and handling Gender based violence and ways of building social capital.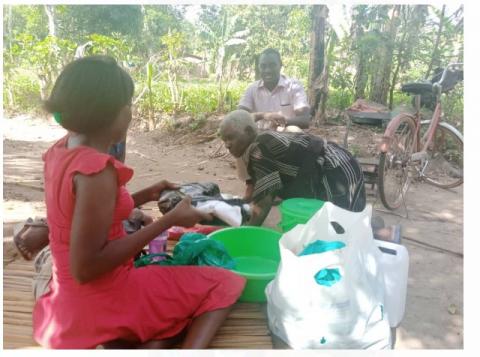 The Community Based Service Department together with the Older Persons Council have managed to enhance the well-being of some of the most vulnerable older persons by giving some support to them like food relief, beddings (blankets and bed sheets), soap just as it's reflected in the picture above as Nabirye Florence who stays in Muwebwa parish, Northern division happily receiving the relief. She is not yet a SAGE beneficiary simply because she registered very late with NIRA after the targeting was done.
Conclusion;
To crown it all, old age is inevitable and as long as old age comes with poverty, people will fear older persons therefore, we must support older persons in reaching their potential by developing opportunities for them to continue as economically active citizens and leaders of the community. All this can be attained through advocacy for their legal rights, offering appropriate healthcare and psychosocial support, addressing age based discrimination in services offered, implementing a universal old age pension, establishing long term care systems and enabling access to justice.